Blas Na Gaillimhe, A Taste of Galway, is celebrating all things food and seasonal during the month of November with the launch of Blas Na Samhna – A Taste of November. Blas Na Samhna sees the city's food businesses come together with a jam-packed schedule of food events taking place between now and the end of November.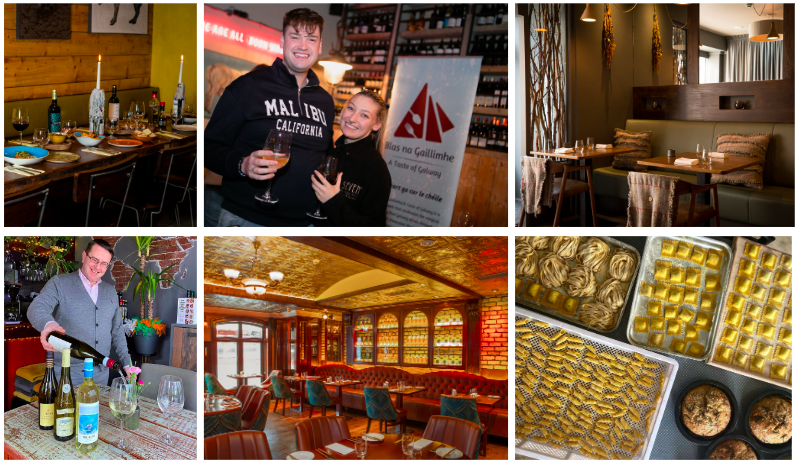 Founding Member and Galway restaurant owner, JP McMahon said "Blas na Samhna is the second month-long event from Blas na Gaillimhe. It aims to showcase Galway's food scene both in the city and in the county. It's a chance for locals to engage with restaurants and food producers. The long-term vision of these events is to shine a light on the wonderful food of the west of Ireland, especially Galway city and county".
Upcoming events throughout November, include Blas na Samhna experiences in Sheridians Wine Bar, Aniar Restaurant, Barnacles Bar and Kitchen, Trieste Café and Wine Bar, Buílin Blasta and many more. 
November 16th in Barnacles Bar & Kitchen, in Upper Salthill, will celebrate Beaujolais Nouveau with a 3-course set menu with snacks and a glass of Laurence et Rémi Dufaitre Beaujolais-Villages Nouveau for €55 per person, beginning at 5 pm.  On the same night, Brasserie On The Corner hosts a Blas na Samhna Banquet, Head Chef Joe Flaherty and the team will host a culinary experience showcasing local, seasonal produce in a 3-course menu with an expertly chosen wine pairing to compliment the experience. This event starts at 7:30 pm. 
Women at Heart Brunch at Hyde Bar in aid of Croí Heart and Stroke Charity takes place on November 19th. Enjoy an afternoon in Hyde with a tasty, heart-healthy lunch, tickets priced at €55 per person, kicking off at 12:30 pm. 
On November 22nd, Galway Food Tours and Side Hustle will be hosting a Sustainable Fashion Event in Kind Folk, teaming up with Lisa Regan who will be showcasing how to create a capsule wardrobe. Guests can hear from Gosia from Side Hustle on how to pick the perfect wine for the festive season. They will be serving a nice glass of Pet Nat from Wild Wines or Kombucha from All About Kombucha, Sheridan's Cheese platters and Delicious Treats from Lán Kitchen. Tickets are €20 per person, with the event kicking off at 6:30 pm until 8:30 pm.  
The Pear Tree Café and Wine Bar, in Upper Salthill are pairing up with City Sushi Galway for The Grapest Sushi and Wine Pairing on the 22nd of November. Sittings at 6 pm or 8 pm, priced at €40 per person. 
On the same night, Daróg Wine Bar will host The Road from Wine Merchant to Winemarket, a wine tasting and discussions with Irish-based winemakers: Liam & Sinead Cabot of Cabot & Co, Simon Tyrrell of Tyrrell Wines, and Rafa Salazar of Vinostitos. Tickets are €20 and take place at 7 pm on Dominick Street. 
Head to Spidéal on November 23rd for the Builín Blasta Wine Tasting Event, in association with Wild Wines. There will be a 3-course menu with wine pairings for each course, tickets are €50 per person and begins at 7 pm. Kicking off two evenings in Sheridians Wine and Cheese bar, on November 23rd and 30th, Christmas Cheese & Wine: Part I and II, with tickets priced at €50, the event takes place from 7 pm to 9 pm. 
Towards the end of the month, JP McMahon will host a Chef Swap in Aniar. Andy McFadden from Glovers Alley will share the kitchen on Saturday the 25th of November, and Ciaran Sweeney from The Olde Glen, Donegal on Wednesday the 29th of November. Priced at €152 for a 23-course tasting menu with optional wine or juice pairing. 
On November 30th in Trieste Café and Wine Bar, get into the festive spirit with Christmas Fizz & Bubbles. Guests will be tasting bubbles from prosecco to cava, from cremant to champagne, get your ticket for €70 per person, at 7 pm. 
Head to Seven on Bridge St on November 30th for their Seven Boneless Basket Day where they will have a range of offers on their popular boneless baskets from 7 pm to 9 pm. The Harbour Hotel will host Woodberry's Winter Wine Fair also on November 30th, from 5 pm to 8 pm, with over 100 wines available to sample on the night, tickets are €20 per person. 
Offers running throughout November include Cava Bodega's Early Bird Special of five tapas for the price of four from 5 pm to 6:15 pm Monday to Thursday. Armorica, Oranmore has a special vegetarian promotion with a seasonal vegetarian main course, and a glass of wine or non-alcoholic beverage for €29, showcasing local suppliers. Available Wednesday to Friday 5 pm to 7 pm,  Saturday and Sunday 3 pm to 5 pm. Over at Galway Bay Seafoods, City Shui have a special menu including uramaki philadelphia, prawn nigiri and seared Joe for €22, Thursday to Sunday, 12 pm to 10 pm, no booking required. Or pop into Siam Kitchen also at Galway Bay Seafoods, with special menu additions including homemade fish pie with creamed mash, homemade seafood chowder with homemade bread and stir-fried calamari salad, call in Thursday to Saturday from 10 am to 3 pm also no booking is required. 
The Twelve Hotel presents A Taste of Autumn menu throughout November, with a focus on game season, with wine pairings. Choose from two menus, the West Experience 3-course menu for €59 or the Wild West 7-course menu for €75 with optional wine pairing available, choose from classic wine pairing for €38 or premium wine pairing for €68. 
Visit the "A Taste of Galway" website for a full list of events and booking information. Please visit www.atasteofgalway.com or email [email protected].