Multi-award-winning Spanish restaurant Cava Bodega in Galway ​City, owned by JP McMahon and Drigin Gaffey,  is celebrating its fifteenth birthday this month.
The celebrations will continue throughout the month with​ live flamenco music, ​from 3 pm to ​5 pm, each Sunday afternoon.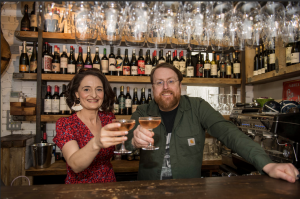 Drigin Gaffey said, "Cava Bodega is more than a restaurant. It is a family, a community, a place to unwind. It exudes an atmosphere of connection, warmth and fun, which is enjoyed by staff and customers alike. Although we have grown over the years with creative dishes, cultural events and natural wines, we have also kept our traditional tapas that keep people coming back year after year. We look forward to celebrating our ever-evolving and ​much-loved space for many years to come."  
JP McMahon said, "Cava has always been Spanish in terms of its inspiration and dish creation; however we are so proud of all the Irish producers we work with and who, along with our staff and customers,  are at the heart of what Cava is.  We keep the menu fresh ​with new additions to the menu and daily specials that change with the seasons.  It means that each visit to Cava is  different, however​,​ we are confident after fifteen years that the experience remains the same." 
Cava Bodega is located at 1 Middle Street, Galway City. To view the menu and for bookings see the website www.cavarestaurant.ie Follow @cavagalway to stay up to date on birthday celebrations.