Galway Bay Seafoods has been serving the people of Galway and beyond with quality seafood for more than 70 years through a family tradition of craft fishmongering. Launching a new addition to the business in the form of The Dockside Deli,  Galway Bay Seafoods has added a whole new seafood experience for visitors.
People who appreciate fresh, local, sustainable and ethically caught fish and seafood, together with innovative and convenient mid-week and weekend meal ideas, should make The Dockside Deli at The Docks a must-visit.  
Like a seafood court, The Dockside Deli has ready-to-eat and ready-to-cook seafood and fish options, alongside a forward-thinking and creative menu of hot daily specials, all of exceptional quality, under one roof.
The Dockside Deli has a unique location on Galway's working docks, providing an authentic backdrop for experiencing fresh, local fish and seafood, and an opportunity for enjoying the atmosphere of this part of the city's landscape.
Noel Holland, owner  of The Dockside Deli, said, "We are delighted to introduce the latest innovation from Galway Bay Seafoods in the form of The Dockside Deli. Though tradition is strong within the business, Galway Bay Seafoods has always adapted and changed to keep ahead of the pace. With The Dockside Deli, we are keeping our promise to deliver only the highest quality seafood products and service to our customers, old and new."
The Dockside Deli's in-house professional chef Kevin Hynes creates a menu of hot specials that revolves around whatever comes into them fresh on the day. Customers can eat-in, perched at the counter, or take it away to enjoy the food at home. Expect dishes like Clam & Seaweed Chowder with Seaweed Bread; Line-Caught Salt & Chilli Squid with Smoked Garlic Mayo; Pan-Roasted Silver Hake with Baby Potatoes & Seaweed; Crispy Fish Sandwich with Pickled Cucumber, Red Cabbage Slaw & Homemade Twice-Cooked Chips; Gluten-Free Batter Local Fish & Homemade Twice-Cooked Chips with Chunky Homemade Tartare Sauce; and Crispy Connemara Seaweed Tempura that reflects a focus of the kitchen on fresh local seaweeds.
Among the many other stand-out signature ready-to-eat items you can look forward to are Poached Wild Atlantic Prawns cooked fresh daily; House-Made Seafood Sushi; Rollmops with Pickled Shallot; Line-Caught Squid Salad; Prawn, Watermelon & Mint Salad; Garlic & Herb Prawn Salad; Connemara Seaweed Salad; and Picked Local Samphire — the latter on the menu not only for being a great seafood enhancer, but also because they want to encourage people to try new things.
The Dockside Deli has its own hot-smoker that is used to produce a number of special signature items, namely Hot-Smoked West Coast Mackerel, Hot-Smoked Kelly's Oysters that come with local Mungo Murphy's Sea Lettuce; Hot-Smoked Galway Bay Seafood Salmon; and Homemade Galway Bay Smoked Kippers. Customers can watch the skill and care of the smoking process throughout the key stages of brining, smoking and turning — and get to taste the results just out of the oven.
Head chef Kevin Hynes said, "As a chef with an obsession and passion for seafood, The Dockside Deli is a hugely exciting project and opportunity to be a part of. Having such abundant and premium produce to work with is the highlight of my career. Our bespoke products highlight the abundance of seafood and edible seaweeds available on Ireland's west coast and help to get the public eating in a fresh, healthy and sustainable way."
The Dockside Deli is all about making life a little easier, and customers can also look forward to an expertly prepared ready-to-cook selection of fresh, top quality fish and seafood for cooking at home.
The ready-to-eat and hot food is available for take out, and there is limited seating at a counter and a small number of high tables with high stools for simple, no-frills eating in.
The Dockside Deli has a unique and authentic location in the industrial working docks area within walking distance of Galway city centre — with the advantage of plenty of free parking.
The address is The Dockside Deli, New Docks, Galway City, Ireland (at Galway Bay Seafoods).
The Dockside Deli opening hours are Monday to Saturday, 9.00am-5.00pm, with hot food from Monday through to Saturday, 11.00am-4.00pm.
For more information see the website www.galwaybayseafoods.com and stay up-to-date with news on Facebook @galwaybayseafoods and Instagram @thedocksidedeli.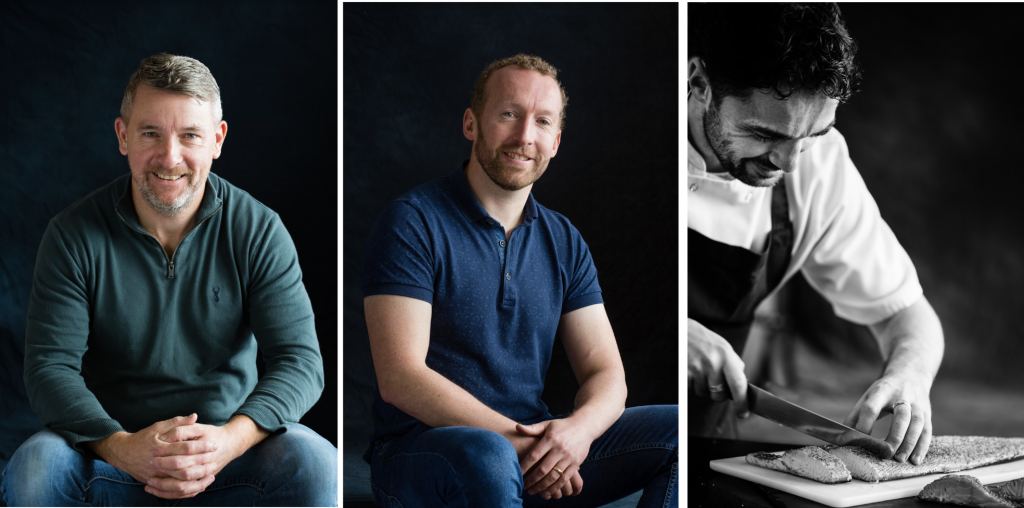 The Dockside Deli Team: from left, Director Noel Holland, Manager Andrew Keady, Head Chef Kevin Hynes. Photos: Anita Murphy