A new initiative by Galway Simon Community called "Supper For Simon" is inviting people to host a Come Dine With Me-style dinner party to raise vital funds for their services.
The idea is simple; gather your friends, get cooking and ask guests to donate what they would have spent on a meal out in support of those experiencing homelessness in our community.
The meal can be whatever you make it – a candle-lit evening in the comfort of your own home with a few close friends; a potluck party with colleagues at the office; or a garden barbecue with neighbours.
Sinead Molloy of Galway Simon Community said, "Supper For Simon is a really simple way to help make a difference in the lives of others. Unfortunately, we're seeing an alarming number of households being forced to choose between putting food on the table or paying bills. By getting involved in Supper For Simon, you are playing your part in helping us to provide these families and individuals facing homelessness with the stability, safety and support they need to overcome their current challenges."
Olivia Collins of public relations agency Food PR helped launch the campaign by hosting a Supper For Simon dinner in her home. Her guests included Supper For Simon ambassadors and chefs  JP McMahon of EAT Galway, Michelle Kavanagh of The Kitchen Café and Aoibheann McNamara of Ard Bia restaurant and The Tweed Project.
Olivia Collins of Food PR said, "It's a wonderful initiative to have fun with friends while doing something good. We are hoping to encourage social sharing by asking hosts and guests to take snaps of their dinner parties and posting them on a social media platform using #SupperForSimon."
The local charity, which works with people in the areas of homelessness prevention, housing and health and wellbeing, is aiming to reach 100 Suppers For Simon before the end of the year.
To host your Supper, visit www.galwaysimon.ie/supper-for-simon to sign up and unlock your free toolkit which includes invites, recipes created by the Supper For Simon chef-ambassadors, hosting tips and more. The charity is encouraging participants to share their photographs and stories on social media using #SupperForSimon to help promote the campaign. For more information call Amy on 091 381828.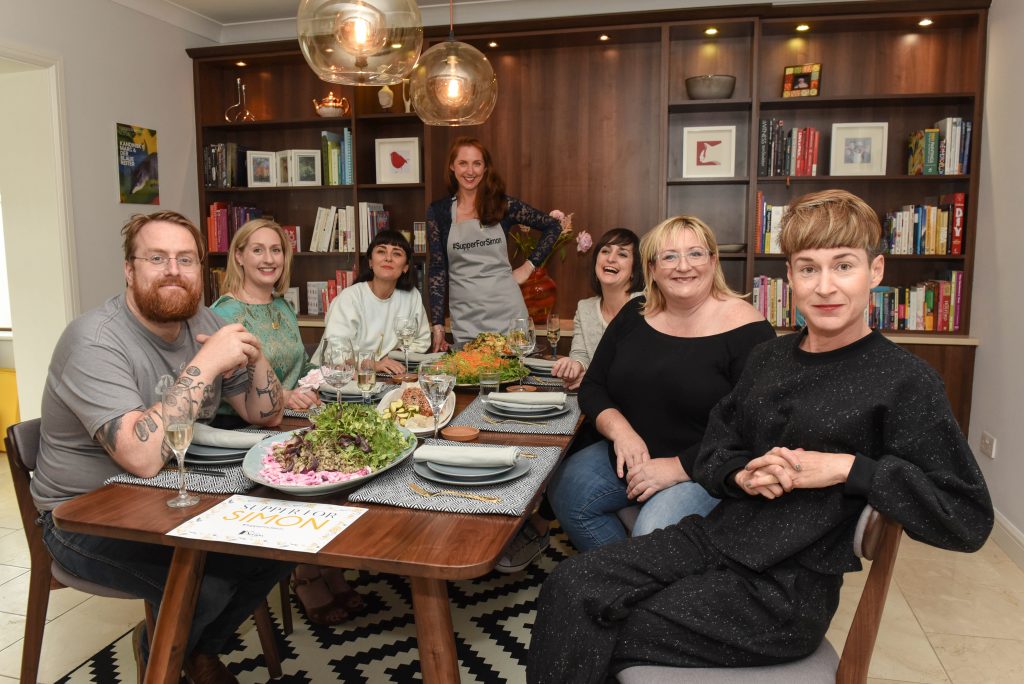 L-R: JP McMahon (EAT Galway), Sinead Molloy (Galway Simon Community), Triona Lillis (The Tweed Project), Olivia Collins (Food PR), Ruth Hegarty (egg&chicken Food Projects), Michelle Kavanagh (The Kitchen Café) and Aoibheann MacNamara (Ard Bia and The Tweed Project) at the launch of the Supper For Simon fundraising campaign. Photo: Boyd Challenger