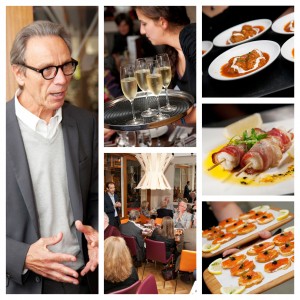 Last Wednesday  night saw a group of foodies and cava-lovers come together for a night with Freixenet hosted by Zaragoza on South William Street. For more on that, see here. Freelance journalist Lynne Nolan was there and gives her take on the night:
'For diners starting out on an evening's culinary journey, location is paramount. The newly-opened Zaragoza restaurant on Dublin's South William Street has certainly succeeded in that respect.
Positioned within the distinctive retail, cultural and architectural district right next to some of the city's most important Georgian buildings – The City Assembly House and the Powerscourt Centre – Zaragova was indeed a fitting location to host its sell-out Freixenet Cava tasting last night, celebrating the history of the family-owned, Spanish company and its spectacular range.
Founded in 1861 by Francesc Sala Ferrés, the company has concentrated on the production of cava, a natural sparkling wine, following the method used in France's Champagne region since the 18th century and its continuous expansion in world markets has made Freixenet a world leader in sparkling wines produced using traditional methods.
Already drawing crowds to enjoy its fresh Mediterranean tapas and warm Irish welcome in a convivial setting, Zaragoza's guests at the unique event were impressed on arrival by its cava bar, a striking centrepiece, and honoured be in the presence of cava experts Freixenet's Oscar Boada and Bernard Halbach.
The evening got underway with a cava reception on arrival. After being seated, diners enjoyed a glass of Segura Viudas Lavit Rosado and the first of eight courses — Tostados de Salmon – Cured smoked salmon roast, light lobster mayonnaise and black caviar — as Oscar Boada entertained them with his knowledge of this fresh, crisp and lively wine, resplendent with ripe cherry and berry flavours, with an exceptionally smooth and satiny body.
'Explore, Eat, Enjoy' was the maxim for the event, which diners certainly did, with the next selection being the Elyssia Gran Cuvee, a firm favourite among guests, featuring pleasant, elegant aromas of acacia flowers and lightly honeyed tones, over a background of ripe pineapple and peach, mingling a clean, crisp acidity, and developing into a long balanced finish.
The Elyssia Gran Cuvee combines traditional Macabeo and Parellada Cava grapes with international favourites Chardonnay and Pinot Noir, the first three cultivated in the Freixenet family vineyard 'La Freixenada' in Sant Quinti de Mediona, where the chalky strata creates an excellent soil for these grapes, Oscar explained.
Other delicious dishes included honey-glazed spinach and goat's cheese filo triangles and apple compote, crispy duck in filo pastry with almonds and apple sauce and Albondigas (spiced veal and pork meatballs, tomato and garlic sauce, perfectly matched with the Cava accompanying their arrival on the tables.
As the Cava showcase flowed with Aria Brut, offering flavours dominated by fresh pineapple, almonds, honey and straw with hints of pears and fresh bread, the Elyssia Pinot Noir, a cava full of intensely ripe summer red fruit aromas, summer raspberries, red currants and cherries worked well, and Segura Viudas Heredad, the food received wide praise from my fellow diners, particularly the perfectly-cooked monkfish and smoked bacon skewers with red pesto and black olive oil dressing (Brocheta de Rape).
Brocheta de Pollo (free range chicken skewers, roast pepper and sundried tomato dressing)and Solomillo de Ternera (5oz prime striploin steak with pink peppercorn or morel mushroom sauce) served with seasoned vegetables and potatoes also received the thumbs up.
In my opinion, the pièce de résistance was a tie between the monkfish and the homemade Vanilla and Strawberry Ice Cream for dessert, while the other delectable dessert options were Crema Catalana, a custard-based dessert with crispy caramel coating, and Chocolate Mousse Delight.
After such a sweet start for this new opening, Zaragoza is likely to become the new landmark attraction on South William Street.
Zaragozadublin.com  Twitter: @ZaragozaDublin #ExploreEatEnjoy'