Ard Bia is the inimitable restaurant located in the landmark building of Nimmo's at Nimmo's Pier in the Spanish Arch area of Galway, Ireland.
Since its first opening in 2002 Ard Bia has become synonymous with design, culture and creativity; setting a new standard for casual, relaxed food. Celebrating over 15 years in Galway, the restaurant has recently gone through a transformation with a whole new look and layout that owner Aoibheann MacNamara says is the restaurant she has "always dreamt of".
Heading up the design of the new Ard Bia is Aoibheann's chief collaborator in the rising star of Irish design, The Tweed Project, Triona Lillis.
Triona described the design process, "The words were 'not industrial' and this is where the design process started with the refurbishment of Ard bia at Nimmos. Many heads, hands and hearts made it happen. Aoibheann said she wanted the beautiful, locally sourced larch wall. Amelia wanted a fully and highly functioning bar. Nathan said, 'Let's open the stairwell to let in the light.' So I created a moodboard of images and work began. Ian Morrissey and his talented team of lads did the hard graft with Amelia Colleran at the helm as site manager. A bevy of Galway talent was enlisted to create key elements. The new high bar table was made by Gavin Morgan, using beautifully sourced local chestnut. The bar shelving was made by Peter Ventors, the Donegal tweed cushions by Giusy Degano and the handmade pottery lampshades by Spiddal potter Martha Williamson. The inspirations were fresh,clean lines and using local materials and craftspeople."
The new menu is still quintessentially Ard Bia, with the much-loved Ard Bia style of relaxed food and locally sourced ingredients made into heart-warming dishes by head chef Ronan Reynolds.
The new space is a reflection of the outside brought in. "Earthiness, connectedness with our surroundings and a sense of revivalism is what we are hoping to achieve," says Aoibheann. "We are very proud to have Ard Bia located in Galway. Galway is the home to many amazing designers, food producers and craftspeople. The new Ard Bia reflects the best of that."
Ard Bia is open Monday to Sunday from 10:00am to 3:30pm for breakfast and lunch. Dinner is from 6pm.  Brunch is served Saturday and Sunday from 10:00am to 3:00pm. Telephone +353 091 561 114, email [email protected]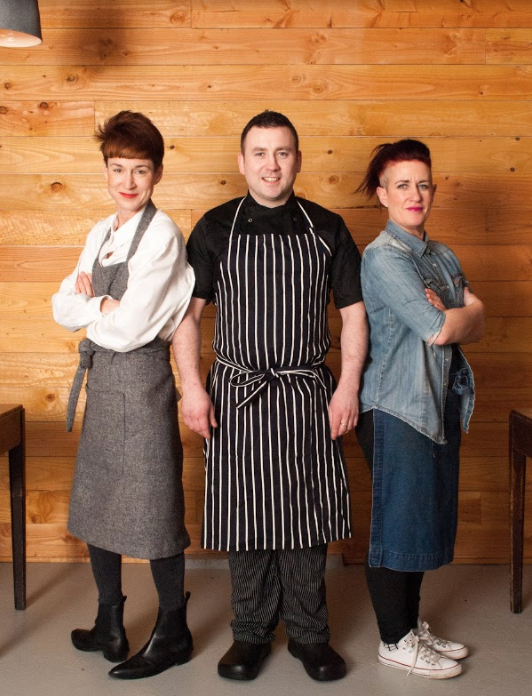 Aoibheann MacNamara, Ronan Reynolds and Amelia Colleran