The major new restaurant-bar from chef, restaurateur and TV personality Dylan McGrath marks a groundbreaking moment for the social life of south Dublin.
Dylan McGrath — the restaurateur behind some of Dublin's hottest dining and social venues, namely Fade Street Social, Rustic Stone, Bonsai Bar, Taste and Brasserie Sixty6 — has opened the doors to his newest venue Shelbourne Social in the south Dublin district of Ballsbridge. The chef, businessman and TV personality, together with his team, has turned his focus to the Dublin 4 scene to develop a new, relaxed and modern social experience that's in keeping with the trailblazing spirit of the locale and its tradition for being a social nexus.
Dylan McGrath said, "Shelbourne Social is an innovative new approach to dining in the city. As a restaurant I feel it relies on the fundamentals — style, comfort, simple and great food, and excellent drinks. We've created a menu putting what customers want at the fore and hopefully we have evolved with how people want to eat. We haven't hung our hat on any particular style. I hope people enjoy dining here as much as we have enjoyed creating it."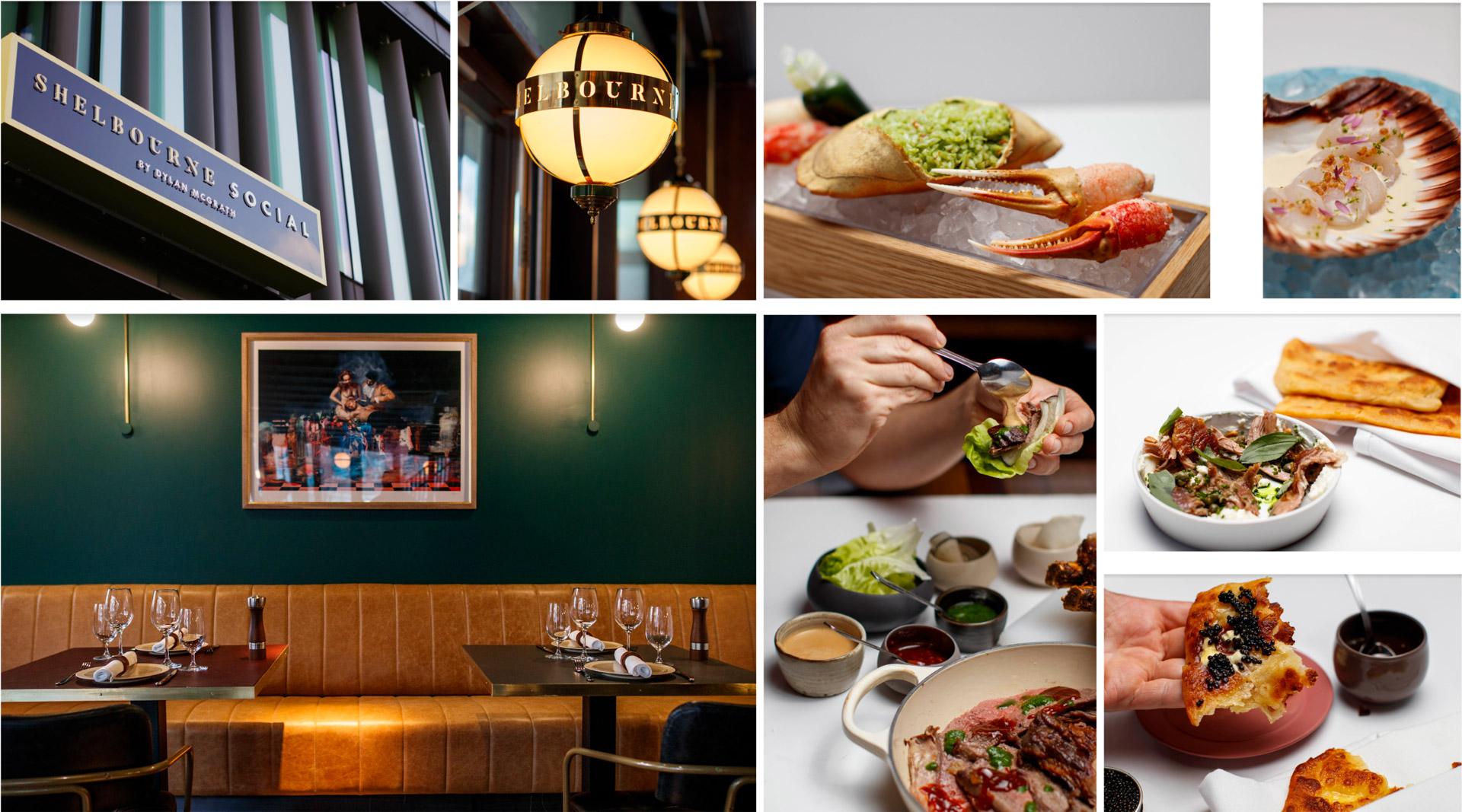 Dishes that people can look forward to at Shelbourne Social are whole ducks and chickens carved at the table, as well as whole dry-aged short ribs smoked for up to nine hours for up to eight people.
Dylan's intuitive sense of how to marry different ingredients and flavour pairings to create the highly original, contemporary dishes is clear to see on the Hot Curd Bread section of the menu. Made with a base of curd and described by Dylan as being like an Irish potato bread that's cooked like a large pancake, the made-to-order dish comes as two large pieces of bread that you rip up and dip in different components, with options including hen's egg and smoked trout roe, foie gras with poached winter plum, and Ossetra caviar with seaweed butter among others.
Vegetable dishes are not sides but are resolutely main course in style — and they're perfect for sharing, too.
Dylan's love for creating raw-ingredient dishes that are healthy, fun and innovative features prominently on the menu, including in cutting-edge Crudo dishes like high-end O-Toro Tuna with Horseradish and Orange Dashi.
Equally laid-back and cutting-edge is the Shelbourne Social bar space, which has a bold and daring cocktail selection filled with innovative and creative flavour pairings, alongside an eclectic beer and wine selection, extensive spirits and aperitivo list, as well as some of the best bar bites in town.
The 85-seat venue incorporates a diverse and inviting sequence of spaces, including large-scale, light-filled gathering areas along with intimate dining and cocktail niches, arranged at ground floor and mezzanine level. The material palette utilises grade A materials sourced from around the world, including Regia and Arabasacato marbles from Italy, soft and naturally pigmented leathers from Spanish tanneries and naturally stained American oaks.
The interior design is by London outfit 20.20 Limited — award-winning hospitality designers who have designed the hospitality suites at Arsenal Football club, London Stadium, The Royal Ascot, Etihad Stadium and Anfield — who describe the décor as being "a clash of off-beat art and grown-up sophistication, combining laid-back luxury, high-end dining and a cutting-edge vibe, which delivers a new social venue with a playful, urban vibe to the heart of Ballsbridge".
Shelbourne Social by Dylan McGrath is located on the most prominent corner of the impressive new Ballsbridge One scheme, and in proximity to the Aviva Stadium, the RDS and Dublin's tech hub at Grand Canal.
It is the sixth restaurant concept and third bar concept from the large restaurant group operated by Dylan McGrath and his business partner Vincent Melinn. The group's other key players are Billy Creaney and Gerard Melinn.
Booking is available online at www.shelbournesocial.com, by emailing  [email protected] or by phoning +353 (0)1 963 9777. Group and party bookings are welcome. Gift vouchers are available.
Shelbourne Social is open from the 6th of December in the evenings from 5.00-10.30pm, with a lunch menu available from the 12th of December from Wednesday to Saturday, 12.00-3.00pm.
Shelbourne Social by Dylan McGrath is located at Unit 1, Number One, Shelbourne Road, Ballsbridge, Dublin 4.