Esquires Coffee Celebrates Fairtrade Fortnight with a visit from Honduras Organic, Fairtrade Coffee Farmer
Ethical Consumer Magazine recently ranked Esquires Coffee as having one of the best social and environmental impacts of the 14 major global coffee brands surveyed in the study. The coffee brand ranked at number 2 ahead of its major competitors, Starbucks,  Costa and Cafe Nero. Esquires Coffee is a global coffee brand with nine independently owned outlets across Ireland.
Ethical Consumer considered the coffee brands' ethical sourcing claims, their treatment of people, their record on animal testing and product sustainability. Esquires Coffee, was particularly commended for its sourcing of fairtrade and organic coffee across its café network.
 Managing Director for Esquires Coffee in Ireland, Tony McVerry said "To create speciality coffees with perfectly balanced flavour, the blend is made up from coffee beans sourced from a range of countries and as it is Fairtrade, the origin of each bean can be traced back to the individual coffee farmer that grew the plant. This level of traceability not only helps us to ensure that the coffee in our customer's cups is always of the best quality, but also means that we are confident that by sourcing Fairtrade beans, that we are helping growers to improve quality of life for themselves, their families and communities"
One of the coffee farmers who supplies Fairtrade organic coffee to Esquires, Omar Rodriguez from Honduras will be visiting Ireland during Fairtrade Fortnight. His  family have been working in coffee for several generations, his grandfather brought coffee varieties and farming techniques from Costa Rica to share with the community and his father was instrumental in establishing the Capucas co-op of which Omar is now the General Manager. Omar shares the community's vision to grow better quality coffee while protecting the delicate environment of the Celaque National Park in which they live. He's also been instrumental in building capacity in the community through their Fairtrade premium programme.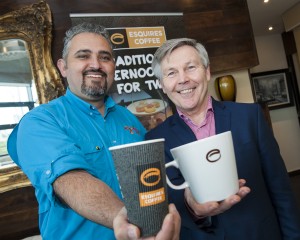 Esquires Coffee are taking part in a number of events and activities throughout their network of cafes to mark Fairtrade Fortnight 2016 – 29th February – 13th March.
For more information see Esquires Coffee Ireland