Drummond House Garlic is Ireland's only producer of commercial heritage garlic. 'The home of Irish garlic'  is a lush one-hundred acre farm located in the village of Baltray Co. Louth. Owned by Peter and Marita Collier, this farm has been in the Collier family for over 150 years.
The garlic farm at Drummond House grows and sells over ten varieties of garlic.
The most popular varieties are 'Elephant Garlic'  – a mild tasting,  large bulb which is actually a variant of the garden leek. It produces garlic-like bulbs and has a flavour that is milder than 'normal' garlic; 'Spanish Morado Garlic' –  large and strong in flavour, its bulbs are a mix of purple and brown. This hardneck garlic can have anything between ten and twelve cloves each; another popular variety 'Solent Wight' is a French softneck garlic that's known for its strong flavour and longevity. The bulbs are large with plump, densely packed cloves that are full of flavour. Other varieties available include Valledo, Carcassonne Wight, Red Czech, Mikulov, Messidor, Bohemian Rose plus many more including a smoked garlic.
For most of the varieties, sowing takes place in September. The first harvesting taking place late in the summer, August or September. The garlic is ready for selling in October and November after approximately eight weeks of drying. Most varieties will last up to four months if stored correctly, not in the fridge but in an aerated container out of direct sunlight.
Marita Collier and Peter Collier started growing garlic on their family  farm, a farm which has been in the Collier family for before the husband and wife team over 100 years. decided to do something The farm was a dairy, tillage and beef farm thing a little different.  They planted 2 acres of garlic in 2013.
Working with their garlic-growing peers – the Edward's family who run a large, successful garlic farm on The Isle of Wight simply called The Garlic Farm – Marita and Peter invested in the machinery, irrigation systems and, importantly, the seed to produce the superior range of garlic they produce today.
The first product of the year are the elusive 'garlic scapes'. Scapes are the green stalks of hardneck garlic plants.  They are only available for two to three weeks every year around the end of May and beginning of June and must be consumed fresh. Often used as one would use wild garlic leaves – in pestos and salads – they can also be deep fried.
Supplying some of Ireland's top restaurants and chefs, Marita has seen her garlic take centre stage in signature chef dishes, becoming more than a flavouring and more of the centre point of the dish.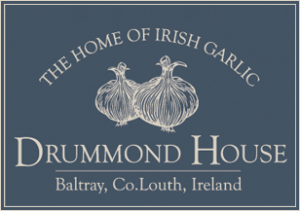 Drummond House Elephant Garlic is available from April and the scapes will be harvested in May. Full range of dried garlic will be available from August.
Pre-orders can be placed via the Drummond House Garlic website.