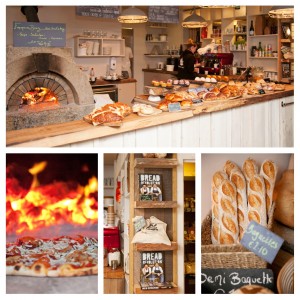 A true food porn-ers dream.  Marshmallowly soft bread, pizzas oozing with melted artisan cheese, flaky croissants. The Firehouse Bakery and Bread School is serving gorgeous, soul-warming lunches and the smell of the bakery should be bottled.
Ireland's up and coming baker Patrick Ryan established the Firehouse Bakery on Heir Island in West Cork in the summer of 2012. He has recently expanded his operations to his artisan-style Bakery to the new food emporium The Delgany, County Wicklow.
The Delgany is where the previous hotel and pub, The Delgany Inn, used to stand on the main road leading into the village of Delgany. The Delgany includes Romany Stone Restaurant on the top floor, and the  Delgany Grocer on the ground floor providing fresh fish and deli, as well as Bungalow Florist and Gift Shop.
Patrick says, "I have been overwhelmed by the support and response which we have received since opening our bread school on Heir Island and I wanted to bring what we do to the mainland. For me this was an opportunity to bring back the village bakery"
A large array of hand crafted breads, pastries, savouries and cakes are baked early each morning. The open plan bakery gives visitors a behind the scenes look at how each item is prepared by hand. Diners can order food for take away or take a seat in the rustic-style café area. The menu extends to gourmet sandwiches such as wood fired roast chicken, sun-dried tomatoes, chilli jam on great white sourdough (€5.75) and Gubbeen pastrami, horseradish mayonnaise, fresh rocket on rye (€5.75).
The wood fired oven is to the forefront of the bakery where diners can watch their freshly made pizza cooked to perfection. Pizzas include Pulled pork, caramelised red onion and mozzarella (€9.50) and Spiced chicken, jalapeño, chilli jam, rocket and mozzarella (€9.50)
'Everything we offer we make ourselves using the best produce this country has to offer.Coffee is Badger and Dodo, Clement and Pekoe provide our tea, cheeses from Gubbeen and Wicklow Farmhouse.  Ed Hick and Farrelly's are our butchers and organic leaves from Stephen Godson. Along with buttermilk from Belgooley"
Patrick believes artisan bread should be affordable and should be a regular purchase at least every other day. 'Good bread is not made to last weeks on end. Buy it, eat it or toast it the next day and then get yourself another and if a loaf is too big, just buy half  and come back for fresh bread another day.'
Firehouse Bakery features a 'Toast your Own' area: an all-you-can-eat supply of  bread with Wexford homemade preserves (€3).
'Artisan baking means bread is made is small batches by someone for whom baking is a labour of love. Baked in the traditional style with no preservatives, that is how it is at The Firehouse Bakery.'
Firehouse Bakery is located at the Old Delgany Inn. Delgany. Firehouse Bread School is located on Heir Island, Co Cork. Firehouse Bakery in Delgany is open Tuesday to Friday 8.30am – 5.30pm (closed Mondays) and weekends 9.30am – 5.00pm.
The Firehouse Bread School is located on Heir Island, Co Cork and runs regular bread and baking classes.
A good one to follow on Twitter: @firehousebread Or Like  on Facebook, for the occasional competition: The Firehouse