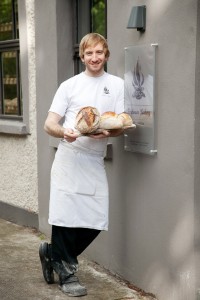 New Kid on the Block:  Patrick Ryan – Firehouse Bakery And Bread School 
Heir Island, Cork and The Delgany, Delgany, Co. Wicklow
After completing a degree in corporate law at NUI Galway, Patrick undertook a 2 year course in professional cookery at GMIT.
Having completed training under the guidance of Michelin starred chef Kevin Thornton at Thornton's Restaurant in Dublin Patrick went traveling where he met Duncan Glendinning and decided to move to Bath, where he spent 4 years as head baker helping to set up The Thoughtful Bread Company and to establish it as an award winning artisan bakery.
In December 2011 I starred in the BBC2 programme "the big bread experiment" produced by KEO films – A three-part series following a unique social experiment with one ambition – to reunite a community through bread.
This was followed by the publication of Patrick's first book "Bread Revolution" released March, 2012 co-written with Duncan Glendinning. It has since been translated into Dutch and is currently undergoing its Italian translation.
Before returning home Patrick completed filming a collection of short videos with Lisa Faulkner (winner of celebrity master chef 2010) which now forms part of The BBC'S food website How to Cook Videos produced by Fresh One.
Patrick set up Firehouse Bread School on Heir Island in 2012 and opened his first mainland bakery, Firehouse Bakery in The Delgany, Delgany, County Wicklow in August 2013.
See www.TheFirehouse.ie or see HERE for more on The Firehouse and Cooking Classes