Family-friendly events are key highlights of this year's Boyne Valley Food Series programme which sees a jam-packed year of special festivals and food events in the birthplace of Ireland's Ancient East. The 2017 Boyne Valley Food Series, which runs from April and throughout the summer until the end of the year, was launched on the 23rd of March in Listoke Distillery & Gin School in Co Louth.
Now in its fourth year, the Louth-Meath food and heritage festival is kicking off with a three-day Kid's Easter Cooking Camp at chef Tara Walker's East Coast Cookery School, Termonfeckin, Co Louth, running from the 18th until the 20th of April.
Boyne Valley Food Series spokesperson Olivia Duff said, "We are thrilled to launch our best ever line-up of food events for 2017 from the Boyne Valley. This year offers an amazing jigsaw of immersive, experience-led events for families, foodies and night owls. The Boyne Valley Food Series is a good news story of collaboration, teamwork and belief in our amazing landscape, heritage and produce of the region and the great venues that offer these unique experiences."
Launching the 2017 Boyne Valley Food Series programme in Listoke Distillery & Gin School, Drogheda, Co Louth, on the 23rd of March, travel writer and editor Pól Ó'Conghaile said, "Food and travel have never been holding hands like they are now. Food is such a driver of travel, such an inspiration for trips. We need to bring food and tourism together at a local level even more. Every time a tourist has an opportunity to eat, they need to become word-of-mouth ambassadors for the Boyne Valley."
More family events include Solstice at the Henge at Dowth on the 17th of June, a family day of fun and educational activities celebrating heritage, farming, food, health and the environment. The family friendly Úlla Festival is happening at the Sonairte National Ecology Centre at Laytown on the 21st of October and will feature an apple walk and tasting tour with children's entertainment and crafts.
The Boyne Valley's coastline is being celebrated with a day-long North-East Seafood Trail on the 3rd of May. This culinary journey is visiting Oriel Sea Salt and Red-Sail Fisherman's Co-Op for prawn sampling at Clogherhead Harbour, the Glyde Inn at Annagassan for razor clam and mussel tasting, as well as Carlingford Oysters and turf-smoked salmon producer Harry Jordan at Carlingford Lough. The series features a second food trail on the 24th of June when the Meath Food Safari departs from the Conyngham Arms Hotel in Slane for a tour of top Boyne Valley food producers including The Whole Hogg, Cockagee Cider, Boyne Valley Farmhouse Cheese and Newgrange Gold Oils.
An addition to this year's Boyne Valley Food Series is collaboration with other events and an example of this is the Great Irish Food Quiz, which is taking place at Maperath Farm, Kells, Co Meath, on the 6th of May. Teams of four can enter Ireland's biggest food quiz, the cost is €100 per table which includes tasters, with proceeds in aid of Down's Syndrome Ireland. The Boyne Valley is welcoming a Slow Food Dublin Tasting Evening on the 21st of September to highlight the close connections between the two regions.  
Heritage is a strong element of the Boyne Valley and its food series, and this year sees an added theme around the topic of forgotten skills. New to this year's line-up is the Muttonhead Butchery in Slane, which is running a Sunday morning event on the 4th of June titled The Cure – Curing & Butchery Workshop to pass on knowledge of the forgotten skill of curing. Kells Hinterland Festival (formerly the Hay Festival) is happening from the 22nd until the 25th of June and will feature a dedicated children's food programme.
Finally, don't miss special summer solstice events in June when the Boyne Valley becomes the focus of mid-summer celebrations.
You can find the full programme for Boyne Valley Food Series 2017 at www.boynevalleyfoodseries.ie.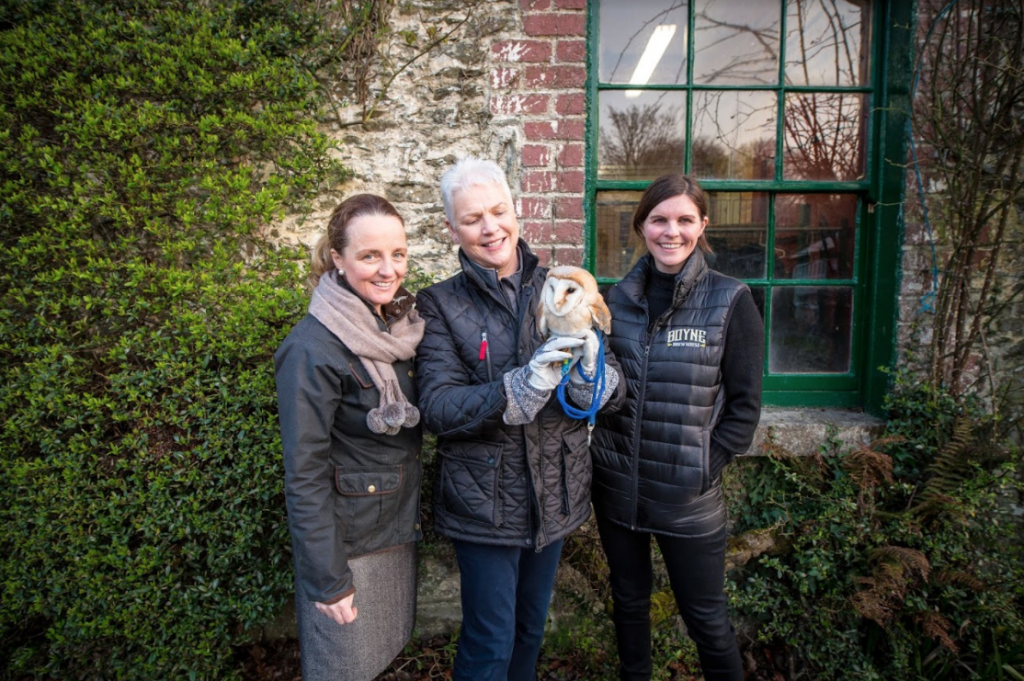 L-R: Olivia Duff, spokesperson for Boyne Valley Food Series, Bronagh Conlon of Listoke Distillery & Gin School, and Sally-Anne Cooney of Boann Distillery at the launch of the 2017 Boyne Valley Food Series