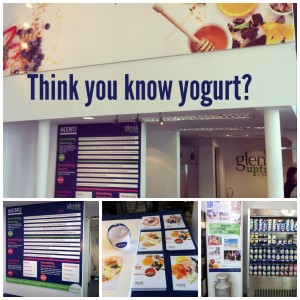 Glenisk has recently launched a pop-up shop front on Dawson Street in Dublin city centre. The pop up will be present for 10 weeks throughout the summer when the unit will become something else or sit vacant. Whatever the future holds for the shop space the brand Glenisk has made a brilliant marketing move and generated plenty of potential PR content.
The Offaly-based company wanted to open our eyes to the multiple uses for yogurt outside of the usual Strawberry flavour for snack and Greek for curry dressing. The price point of each item on the menu €3.00 – €3.50 just covers cost so it's not a money-maker but it is a brand-builder. Other items from the Glenisk range are on sale in-store also.
Some of the 'menu' items includes Dark Chocolate and Orange, Pear and Ginger, Smoked Irish Salmon and Greek Salad. The Irish producer makes sure to use quality, Irish products where possible – the smoked Salmon is from The Burren Smokehouse, the trout from GoatsBridge Trout Farm.
I tried the Carrot, Beetroot with Tahini dressing and Glenisk Greek Yogurt. Light, healthy and just what I needed to keep pangs at bay 'til dinner.