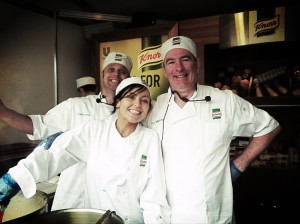 Let's start with some numbers – twenty of the country's hottest restaurants, prompting a gathering of chefs from all corners of Ireland and afar. A hundred producers showcasing their food and beverages in a scenic alfresco setting. Thousands of foodies sampling and shopping for the finest produce. All stemming from just one event: Taste of Dublin.
The portfolio of restaurants and brands assembled at Dublin's Iveagh Gardens from June 13 to 16 were impressive not just for the culinary inspiration and knowledge-sharing on offer and the consistently high quality dishes served up, but also for the range of styles contained within it. Taste of Dublin is an international affair in every sense.
Voted the Best in Dublin by the Irish Times recently, Moore Street-based Paris Bakery's bread was positioned next to the entrance and ready for sampling, while Taste of Thailand's traditional entertainment, cooking lessons and massages proved a hit. The well-informed representatives at Beaujolais Wines educated visitors on the broad range of wines the region has to offer, fresh and fruity whites to fuller-bodied and more serious reds from the Crus.
The Electrolux Taste Theatre drew huge crowds to its notable line-up of guest chefs, including The Kitchen in the Castle Cookery School tutor Hazel McFadden, TV chef Edward Hayden and The Merrion Hotel's executive head chef Ed Cooney; serving up lamb, meringue roulade with summer berries and wild Irish salmon for visitors to sample, as well as lots of laughs and useful tips.
The Merrion Hotel's executive head chef Ed Cooney revealed the property will be the first to have all of its food items nutritionally-analysed, while he urged other chefs to work in kitchens overseas to keep their menus exciting and up to date, as "it's crucial to stay ahead of who you are."
Other top chefs on the stellar schedule included Neven Maguire, Rachel Allen, Derry Clarke, Sunil Ghai, Oliver Dunne, and Jean-Christophe Novelli, with whom Foodpr.ie had an exclusive interview, to be published on the blog later today.
Under the tutelage of Lynda Booth's Dublin Cookery School, visitors had the opportunity to take part in The Electrolux Chefs' Secrets master classes, including Edward Hayden's highly entertaining hosting of the seafood chowder class on Sunday afternoon.
Scrumptious samples were in high demand across the gardens, with visitors flocking to taste the treats or spend their florins (Taste of Dublin's own currency) at Knorr, The Collective, Mash Direct Moy Park, Dubliner Irish Cheese, Crabbie's Ginger Beer, Barefoot Wine and Ballymaloe Irish Relish.
Ireland's best restaurants offered lunch and dinner in tapas-sized dishes, priced on average at five florins (€5). Among them Jaipur extended the warm welcome and imaginative menus its restaurants at Dalkey, Malahide, Greystones and Ongar are renowned for, while Gordon Ramsay at Powerscourt showcased well-loved classic dishes with a modern twist.
The West of Ireland's only Michelin-starred restaurant, Galway's Aniar came to Dublin for the weekend, serving up delicious duck, brown crab and scallops at yesterday's lunch session.
Nick Munier and Stephen Gibson joined forces to create Pichet; a modern take on the classic Bistro on lively Trinity Street in Dublin's city centre, and even their attractive stand tickled visitors' taste buds.
Other top restaurants included Il Primo, which has been serving rustic Italian food paired with some of the best wines that Tuscany has to offer for more than 20 years.
The foodie paradise attracted Irish TV stars including Fair City actress Ciara O'Callaghan (Yvonne Doyle) and the Saturday Night Show presenter Brendan O'Connor, while generous helpings of live music and sunshine provided the ultimate backdrop to the incredible Taste of Dublin dining experience.
Lynne Nolan