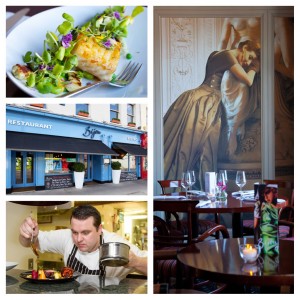 In a country that's seen more then its fair share of good restaurant closures over the last five years, Bijou Bistro is celebrating 15 years and its deli, 20 years in the heart of Rathgar Village. Year on year, they continue to evolve and move with food trends and new cooking techniques to remain a firm city favourite.
Linda Smith, owner of Bijou Bistro and Deli says, "We have a wonderful team, both on the floor and in the kitchen, that combine years of experience in customer service with young, creative talent producing some beautiful food. We also have valuable relationships with local suppliers that go back years. It's this mix of good ingredients, culinary talent and a friendly and warm sense of hospitality that has people coming back time and time again."
Of Bijou's talented Head Chef Ian Ussher, Linda says, "Ian's style of cooking is using the best Irish produce available, incorporating up-to-date and innovative techniques with both traditional and classic dishes, giving a modern twist his dishes."
Ian joined the Bijou Bistro team in October 2012. His philosophy of serving fresh, seasonal and top quality ingredients is evident in every dish that Bijou serves."If we're having one of our popular Steak and Liqour nights, it's with some of the finest quality Irish beef  you'll find, with local leaves and homemade sauces. I love serving excellent quality food in such as accessible manner. We cook and smoke all the fresh meats for our deli ourselves, and prepare everything with fresh and local produce being our top priorities. It means customers get great quality food served is a way that's familiar. On top of that, I love the general atmosphere in Bijou; the decor is opulent, with a touch of old world glamour, while the food we prepare is clean and modern. We get the best of both worlds," says Ian.
See www.BijouRathgar.ie  or follow here on Facebook Bijou Bistro Rathgar