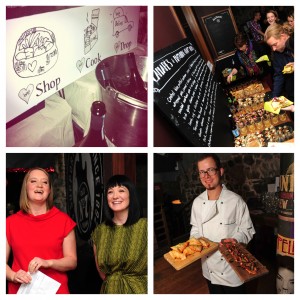 The popular restaurant-quality food delivery company Yum Tree Kitchen is now available as a gastropub dining experience through their partnership with The Townhouse Bar in the centre of Galway City.
Originally a food delivery service offering rustic style, restaurant quality meals delivered to your door throughout Galway, Yum Tree Kitchen now also offers a relaxed space to enjoy their homely but contemporary style food in the comfortable surroundings of a city centre gastropub.
The idea for the innovative food delivery service came about after new mums and food enthusiasts, Kerry Legh and Grace O'Connell, saw how difficult it was to eat healthily while looking after a new baby. The online service, which is proving very popular with young families and those too busy to cook, provides those strapped for time with a choice of fresh and tasty breakfast, lunch and dinner dishes, delivered straight to your door.
The new partnership with the Townhouse means they're now offering the same great food, from one great venue at the Townhouse, which will also acts as a city centre collection point for their take-out service.
"The focus of our new Townhouse venture is to maintain the same ethos of real food with real flavour. The aim is to create a place for lovers of good food, while retaining a hearty and affordable gastropub menu. We also offer an express menu for the office workers on tight schedules, nibbles and snacks for those whiling away the afternoon with a few pints of the craft beer on offer at the townhouse, and we're open until 9 to feed the after work and pre-gig folk. We're also working on a beer/food matching menu to give people an opportunity to get adventurous with their drinks orders," says Grace.  
Popular choices on the menu include the Yum Tree 3 Bean Chilli with home fried nachos and chargrilled chorizo, the juicy grilled field mushroom, Cashel Blue & Cress sambo and the Lamb & Fig Tagine. The super hearty pies of the day have been filling hungry lunchtime bellies.
Yum Tree Kitchen will be serving food in The Townhouse from 1pm to 9pm Wednesday to Sunday. Prices range from €3 to €10 euro.
Delivery Hamper gift vouchers will also be available at the bar from €50 euro.
Twitter: @yumtreekitchen Facebook: www.facebook.com/yumtreekitchen